About
Sanford T. Colb & Co. is dedicated to providing the highest level of international intellectual property law expertise to our domestic and international clients. We are a group of lawyers and patent attorneys trained and licensed in Israel and the United States who are engaged in highly sophisticated patent writing and prosecution as well as intellectual property counseling, licensing and litigation in Israel and the United States. Our clients include leading Israel and multinational companies, universities, governmental bodies and a collection of dynamic startups.

Our intellectual property practice provides services ranging from filing applications for patents, designs and trademarks to enforcement, licensing and litigation of intellectual property rights. The corporate and venture capital practice engages in strategic analysis and evaluation of portfolios for the purposes of protection and monetization.

Sanford T. Colb & Co. was founded in Rehovot, Israel in 1976. The firm has grown substantially as we have witnessed and participated in the growth of the State of Israel as a jurisdiction where intellectual property is respected and protected at the highest professional standard.
Sanford T. Colb & Co. funds and provides the day-to-day, "hands-on" management of a charity farm in Rehovot. Called HaTov V'HaMeitiv, "for the good and for the better", the farm grows more than 60 seasonal crops and donates nearly 10 million pounds of fruits and vegetables every year to needy populations throughout Israel.

Our vegetables include potatoes, eggplants, onions, fennel, carrots, beets, leeks, tomatoes, broccoli, cauliflower, lettuce, avocados, celery and many more. The fruits include oranges, grapefruits, plums, apples, mangoes, grapes, avocadoes, plums and peaches, to name a few.

Our produce is distributed at the farm site to agencies that support soup kitchens, schools, senior centers, low-income households, daycare centers and more.

Our work force includes a mix of skilled agricultural staff, farm workers from under-employed populations and volunteers. We welcome volunteers from schools, families, youth groups and companies to participate in picking in order to get back to the land, to learn and to enjoy.

Our fields employ the latest in Israel agricultural technology in drip irrigation and in plant development.

Please enjoy our farm photos below!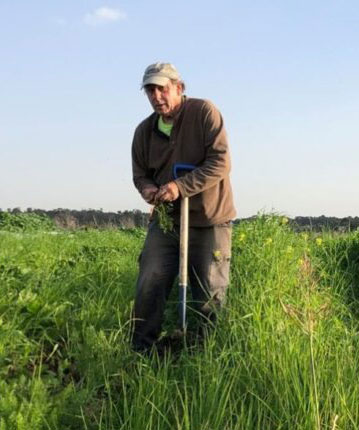 The farmers who are giving their land a year's rest
Featured on israel21c
Click to read more